Online Learning
We are aware that your practice hours and other professional obligations leave you precious little time to devote to continuing education. We very much encourage all interested professionals to attend our programs whenever they are able. However, in order to provide an alternate means of access to our CME activities, we are happy to provide this online resource.
Use the button above to follow us on Twitter and receive course updates!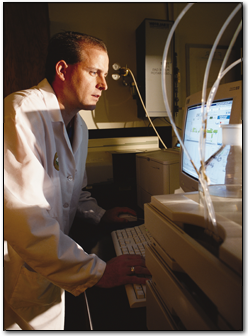 Accreditation
NewYork-Presbyterian/Queens is accredited by the Medical Society of the State of New York to provide continuing medical education for physicians.
In this web area we will bring you exciting programs that can be enjoyed from the comfort of your office or home. Since our development process is still young, the future will bring substantial growth in this resource.
Our offerings come in three broad categories:
Simple, free online postings of general interest, but offering no CME credit
(e.g. slide shows and literature searches)
Non-CME courses providing needed certification
( e.g. New York State Mandated Infection Control)
Complex programs offering Category 1 CME credit
(e.g. grand rounds and symposia)
To obtain credit for the second and third group of offerings, participants must take and pass a quiz after reviewing each of the courses.
By clicking the "Programs" menu at the top, you can gain access to the various types of postings offered. Grand rounds and symposia are offered in two different formats. Our latest programs and all new ones going forward can be found under the "Grand Rounds" and "Symposia" menu items. Our older format programs remain available for viewing (and for credit) under the "Legacy Courses" menu.
Note: This site uses technologies best viewed with modern browsers. We recommend the latest versions of:
Note: Users employing the Internet Explorer or Firefox browsers will want to make certain they have the latest Flash Plugin.
Get latest Flash Player
Note: Wherever you see

, roll over for Help information.